An overview of ongoing and / or future competitions and events arranged by or in collaboration with the Hundeparken administration.
01/12 - Naught/nice
05/12 - Christmas riddles
08/12 - Christmas relay
at 19:30

PROGRAM OVERVIEW

Last dog standing every Advent, 20:00 (8PM)


01. December - Start Christmas calendar | Start naughty/nice


05. December - Start Christmas riddles


08. December - Christmas relay, 19:30 (7:30PM)


13. December - Lucia parade, 20:00 (8PM)


15. December - Bonfire evening, theme: loneliness, 19:30 (7:30PM)


22. December - Christmas bingo, 20:00 (8PM)


23. December - End Christmas riddles | End naughty/nice


24. December - Christmas fun in the park | End Christmas calendar

Are you a rowdy little trickster, or a kind, sweet and innocent dog?

To receive a Christmas present, you need to send a letter to Santa and tell him if you are naughty or nice.

The choice you make determines which Christmas package you get. You can only get 1 package per person.

Send an email to [email protected] by 23 December at 23:49.
The Christmas packages open the night of December 24.

The first Sunday of Advent is around the corner, and we look forward to a wonderful and magical time with you during the coming Christmas weeks. At each Advent, we from Festkomitéen will host a Package Game/Pakkeleg (Last Dog Standing), where the last one standing will win a prize.

The first round will take place on November 28 (first Advent) at 20:00 (8PM).
The second round will take place on December 5 (second Advent) at 20:00 (8PM).
The third round will take place on December 12 (third Advent) at 20:00 (8PM).
The fourth round will take place on December 19 (fourth Advent) at 20:00 (8PM).

Explanation:
All the participants will be standing in a row/in a circle. We will then use a molotov disguised as a Christmas present, which you will have to throw at the dog next to you. We will start the first round from the right, then from the left and finally the middle, before starting from the right side again. This is for it to be as evenly distributed as possible. But keep in mind that there is approx. 30% that a molotov will explode. This means that it can both go fast but also take longer before it bursts. The coincidence will determine who will be out at each round.

There will be 3 laps, which means that we are going to have 3 winners.

Rules:
All participants will have to line up in a row before we start.
You always throw at the participant next to yourself, depending on whether you start from the right, left or the middle.
It will be important to have an empty space in your backpack, to avoid being blown up immediately.
The participant who gets blown up is out of the round, and the one who stands as the last one will win the round.
It is important to respect each other. If you disturb or bother in any way, you will risk being muted and possibly kicked.
We look forward to seeing you every Sunday in Advent and also for several other activities that we have planned for the whole of December!

Are you good at moving a snowman? You will be able to test it soon. At Festkomitéen we will arrange a bush relay - Christmas edition!

In this competition two various teams will have to push their snowman back and forth on their court as fast as possible. When the first dog on the team reaches goal, the next in line can begin to push the snowman forward again. This is how we will continue until all participants have finished their turn. The fastest team advances to the next round. There will then be a final round where the winning team will be decided.

Rules:
Two teams consisting of two participants will line up at their snowman.
Each round first begins, when FK says "GO"
It is allowed to both pull and push the snowman.
Only one team wins.
It is allowed to cheer as long as the text bubbles are not in the way on the court or disturbing in any other way.
Are you going to join? Then we'll see you on Wednesday, December 8 at 19:30 (7:30PM).

It is eleven nights before Christmas, when the darkness is densest, Saint Lucia walks around with a crown of light in her hair. A wonderful and warming Scandinavian tradition that we also would like to celebrate together with you in Hundeparken on December 13 at 20:00 at Lekeplassen.

We gather together at Lekeplassen before we continue walking through the park. Festkomitéen leads the celebration where we go from room to room and end up again at Lekeplassen, where we cuddle and talk together as long as you would like and just enjoy each other's company. We will also arrange several digging spots for those who want to spend the evening there by collecting some bones for Christmas.

Festkomitéen wishes a warm welcome.

On the occasion of Christmas being around the corner, Festkomitéen invites you to a cozy CHRISTMAS BINGO! Bingo will take place on Wednesday, December 22 at 20:00 (8PM) at Lekeplassen which will be ready for Christmas fun.

Below you will be able to find the bingo card and the hats/objects you can fill it in with. When the bingo card is filled in, you send it to [email protected] with the subject Julebingo together with your Dog Name and Username before Wednesday, December 22 at 20:00 (8PM) when the event begins. Unfortunately, your bingo card will not be valid if you submit it after this time frame.

We will have 3 winners - The first person who manages to fill in 1 row, the first person who manages to fill in 2 rows and the first person who manages to fill in the entire bingo card.

Rules:
Make sure you have prepared and submitted your bingo card before the event begins.
When everyone is ready, we will roll the hats/objects in a randomizer and then announce which hat/object that is selected. We will continue to do so until we have one winner for each round.
If you have the hat we announce, cross it out.
You can cross horizontally → vertically ↓ or diagonally ⤡ to get a row.
The first person to shout "BINGO" with a correctly filled row wins the round.
We only accept bingo cards that have been submitted before 20:00 (8PM) on December 22.
We would like everyone to respect and show consideration for each other, if you disturb or can not behave, you may be muted or kicked.
Please make sure you have read the rules before the event starts at the specified time. Festkomitéen will be on site 10 minutes before the event begins to answer questions, it will of course also be possible to ask questions when the event starts. We look forward to seeing you, for a nice evening!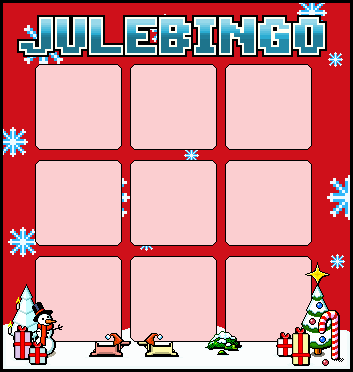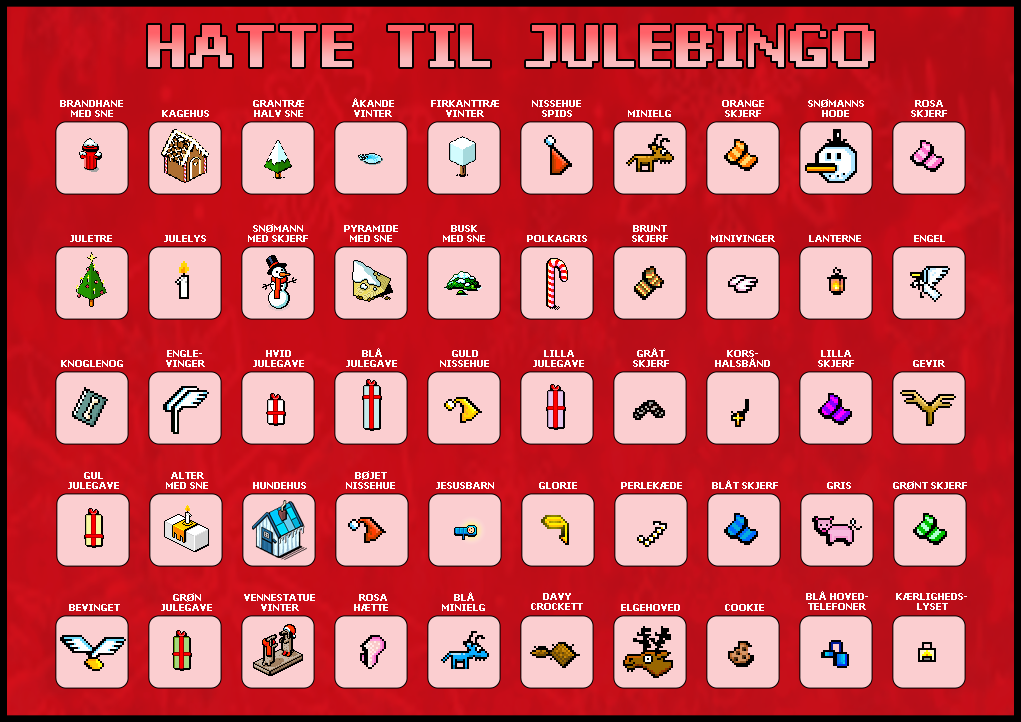 Click here to view the image in full size